Words By: James McKnight
Photos By: Ben Winder
When OWN friends Chris and Travis from Kingdom Bike – a small bike company based in Denmark – gave us a shout to say they'd
soon be arriving in France and were hoping for a little Alpine adventure, office teaboy and publisher James jumped to work
concocting a plan of exploration deep into the mountains near our base in Annecy. In Journal 2, he recounts the weekend of
misguided adventure on our doorstep in and around the Aravis mountains.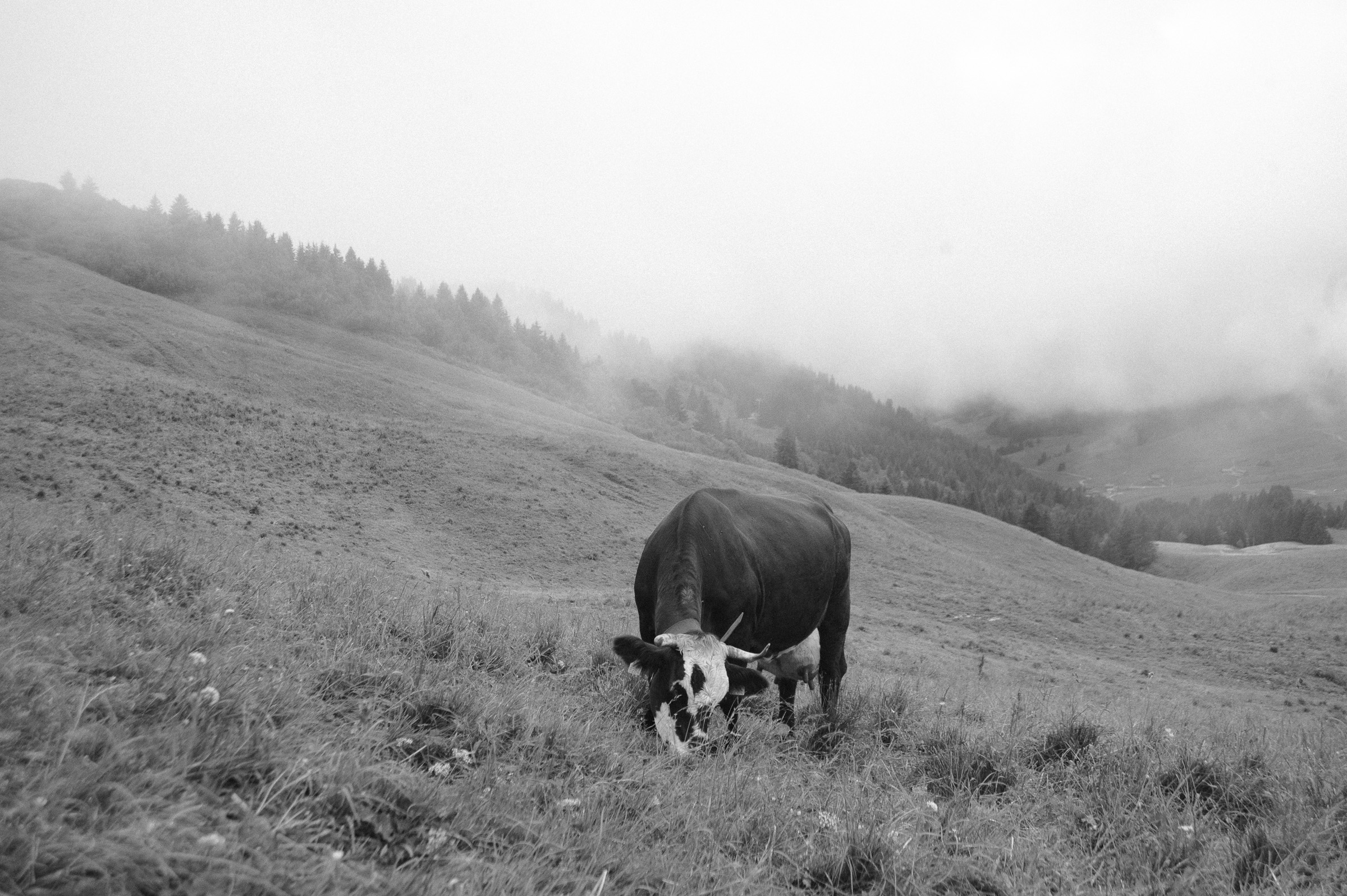 ORIGINS
_
Long forgotten mountain communities nestled in steep-sided valleys around the Aravis range once moved around these hills using networks of well-trodden and winding trails.
These tracks came before the large-scale road construction and valley-changing effects that the ski industry brought to the area with the opening of resorts such as Grand Bornand and La Clusaz. Before mass tourism changed the geology of the area forever, villagers walked everywhere around these mountains, families in tow.
And in the area's chapter as an important landmark in French resistance fighting, trail traffic increased as soldiers shuffled through the forests to access battlegrounds.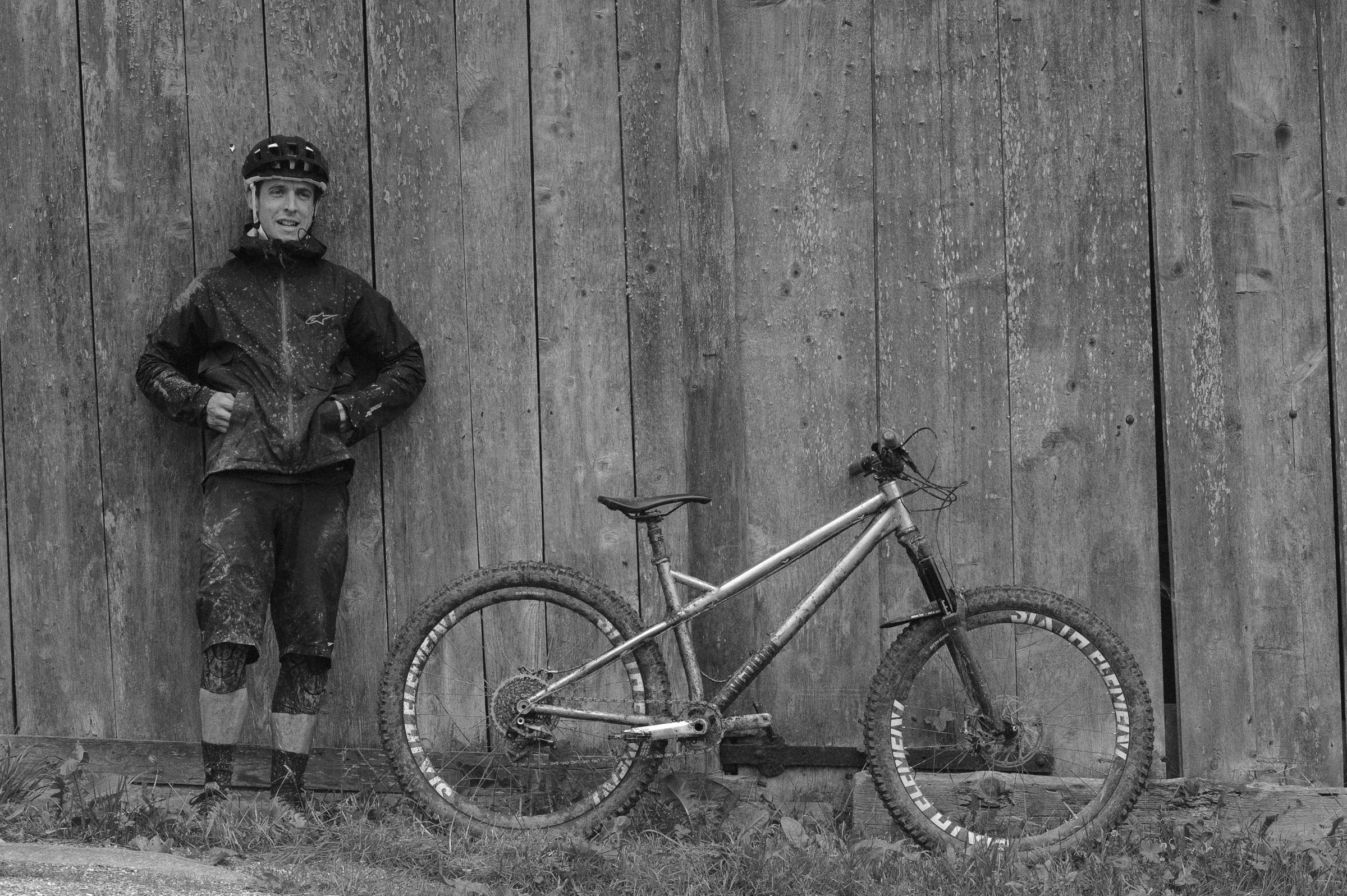 CREW ARRIVES
_
Chris, originally from the UK, and Australian expat Travis were on a flying trip to the area – a three-day tour of the nooks and crannies of the Aravis to ride deep into the pine forests and fight poor weather on various peaks.
From the flats of Denmark to the heights of the Alps, travel done and bikes built we made our way straight into an all-day epic from the edge of the Borne river in Entremont – a trickle turned to roaring torrent after days of persistent rain.
Our start point was chosen for its location at the end of what was once a dead-end valley, beyond which previously lay only dense woodland and roaming wolves. Entremont is now a sleepy little place with a small permanent population, but in a previous life its origins of religious importance and as a key location in the Savoie region saw it as a thriving, almost bustling community, before becoming an important mark on the dark and bloody map of wartime resistance fighting. Over the years, an extensive network of mountain trails developed; trails that are now prime for mountain biking.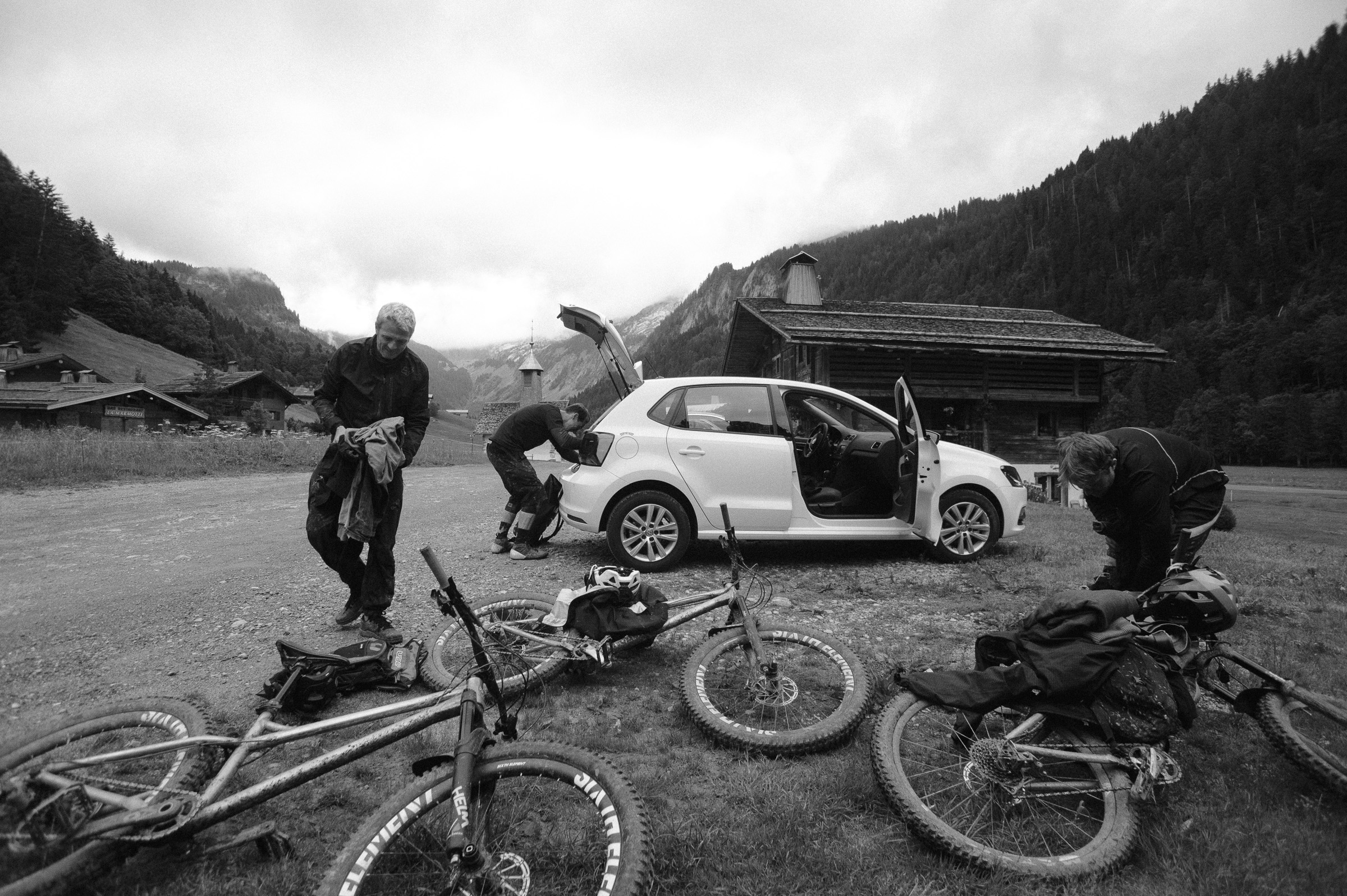 FAFF: PART 1 OF 198
_
With packs stuffed full of pastries and rain jackets at the ready, we began to blunder our way up an 800-metre climb by way of a near-abandoned access route. The stumbling was the start of many pit stops to come, as layers were lost, then re-donned, and then lost again – the difficulties of changeable Alpine weather demonstrated in a jacket.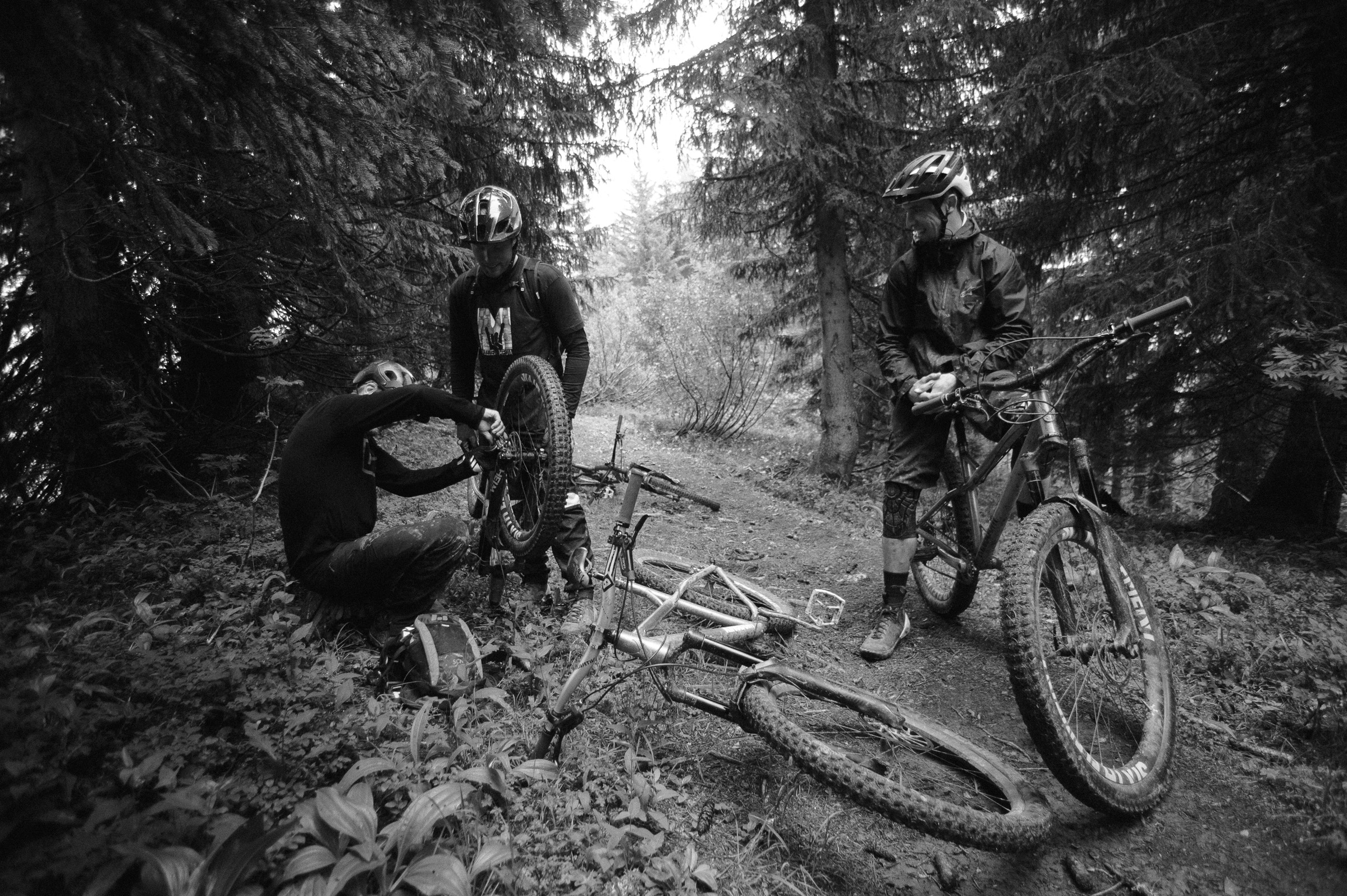 Climbing to altitude on a steep gradient, this path led us through several time-lost communities with only the hardiest of mountain families still present and a distinct lack of accessibility. At the head of our climb, as we peaked over into the adjacent Bouchet valley and down to Grand Bornand, a youthful old man skipped up to us and made an opening comment about our choice of vehicle: "You need a motor on that." Joking aside, our new friend told the story of his infancy trekking this tough route daily to get to school and of his family's biannual migration from one valley to the other – six months in the forests above Entremont, the other six in the open valley of Grand Bornand. The man's clear good health and will spoke volumes of the honesty of a practical life.
Wishing farewell, our friend skipped on as he took a power walk down memory lane – not bad for a man well into his seventies. We, on the other hand, kitted up to the eyeballs in wet weather gear and dropped into the ensuing mudfest. Then seconds later halted to remove all said clobber and generally faff for quite an eternity (no mud after all), and set off again.
Ten minutes of swooping trail of the meandering sort only centuries of natural progression can create dropped us to the valley's flat bottom. There's just something about the way natural trail traffic makes perfect fluid curves that can't be replicated. From here we would ascend once again, after a commendably long period of faff.
THE LOCAL TIPPLE
_
From one valley to the next, we climbed a monster mountain above St Jean de Sixt and from a point somewhere near its peak descended into madness, frivolously devouring vertical metres as we ploughed thoughtlessly through tree roots and slid around muddy switchbacks, high on the delights of the area's trail network. A steep end to this trail dropped us back into Grand Bornand, where we could become acquainted with the local tipples – Genepi, a strong alcohol infused with mountain herbs, and Reblochon, a strong cheese infused with farts.
Travis devoured his first real fromage with no visible signs of fear or immediate regret as Chris and I looked on in bemusement. We already knew the dangers when faced with the town's trademark cheese. Several hours of indigestion later and our little crew scuttled its way through a powerful thunderstorm in the dark of night, back to our base in Entremont.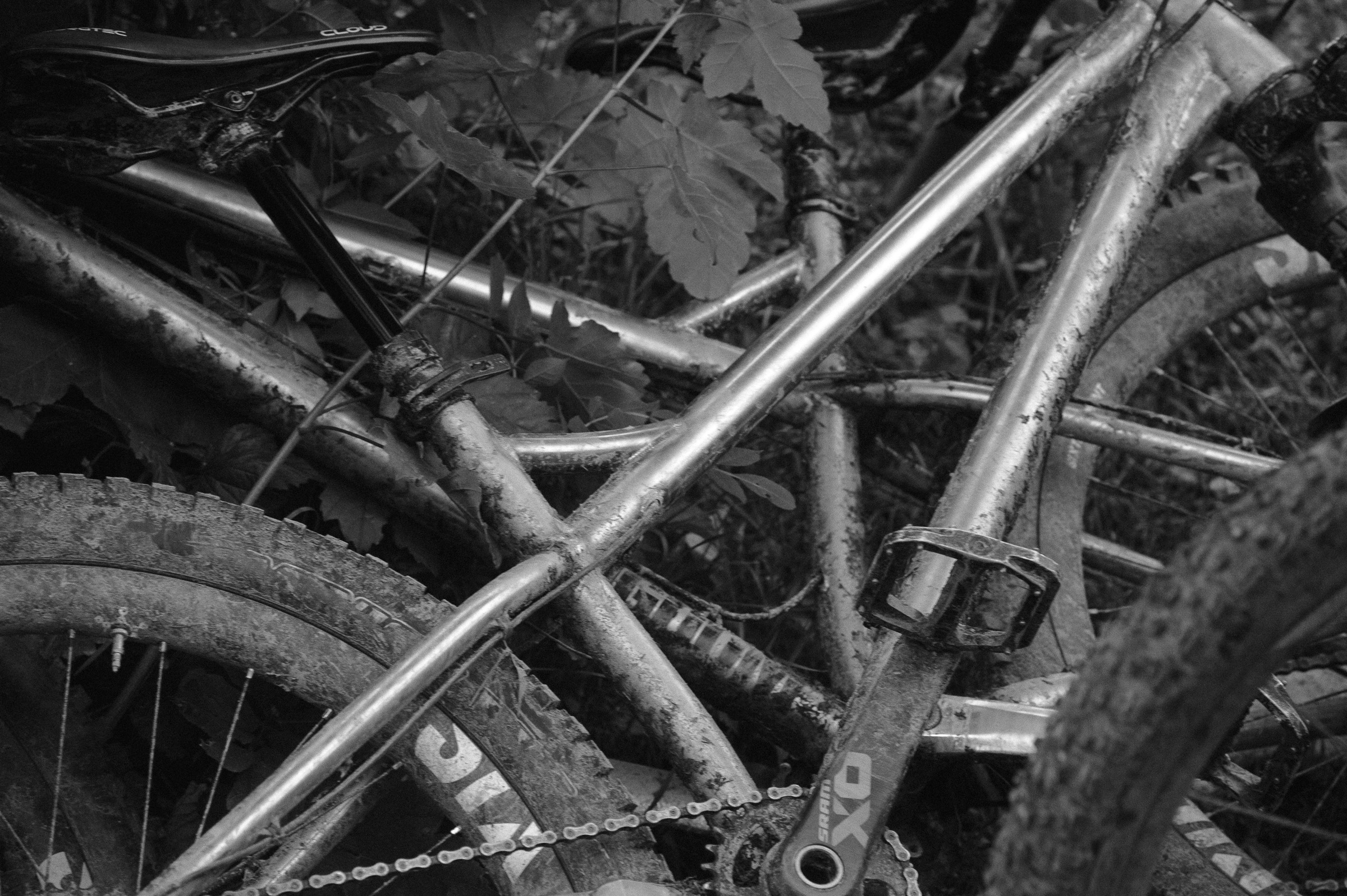 TO THE PLATEAU, AND BEYOND!
_
With an excess of trail time already in hand, our second day could afford to lose its proposed early start in preference of a more leisurely morning of professional faff. Bikes were tinkered, Travis was avoided and time was forgotten. The bells of Entremont's repurposed monastery (now flats, not as note-worthy) made us suddenly aware of our proximity to lunchtime and panicked progress was finally made. Climbing directly out of the village and into the armpit of Entremont's near-vertical valley, we ground our way up a 1000-metre climb towards another extinct community.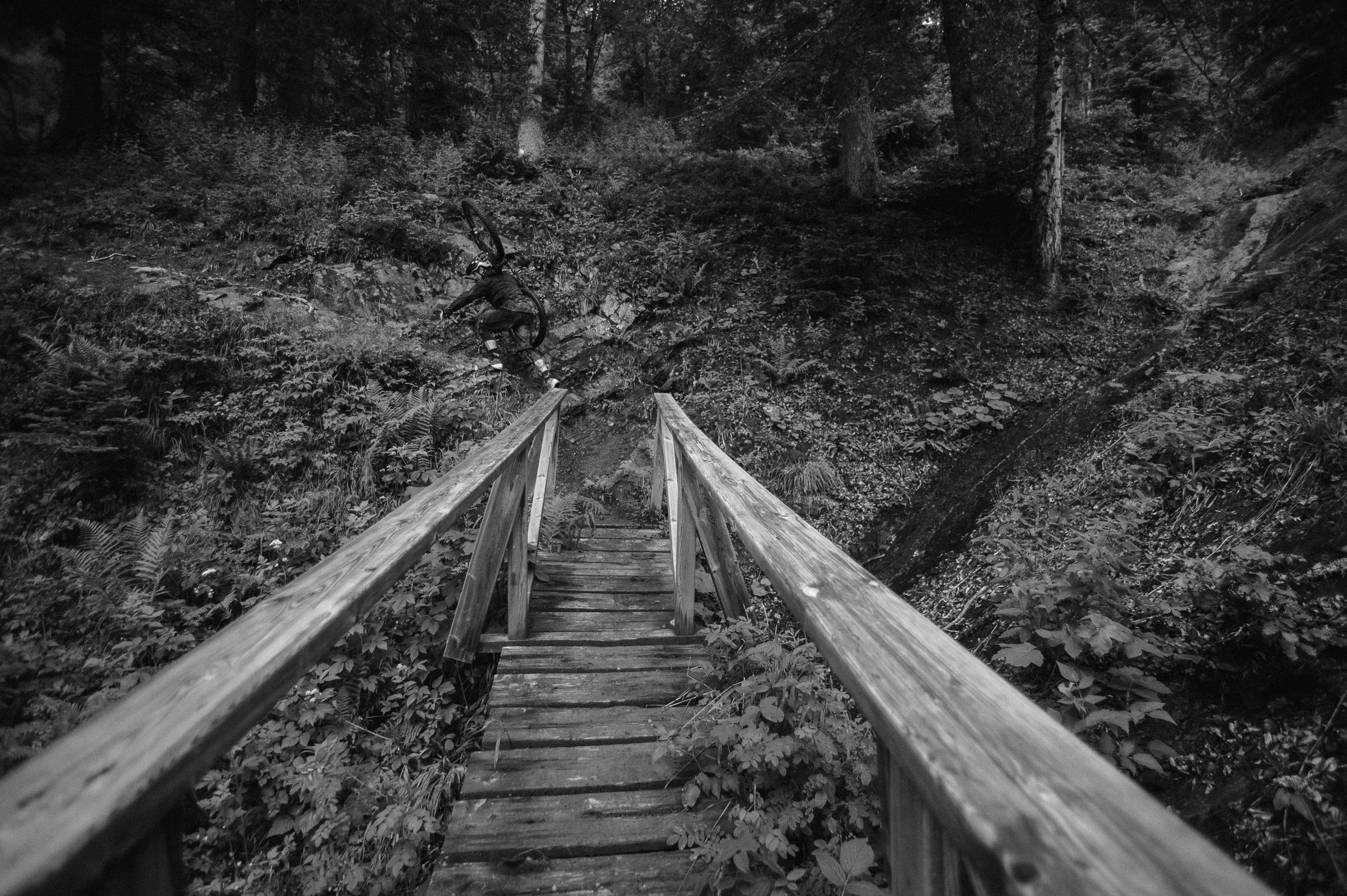 Les Auges, at a snip over 1800 metres, was once a thriving high-altitude hamlet perched on the edge of mountainous reason with perhaps one of the most magnificent views of Mont Blanc anywhere in the Alps. It is hard to imagine there exists another spot that gives a greater sense of one's insignificance than this balcony seat in the theatre of earth's show of absolute power; from here the peaks we had scaled the previous day suddenly became miniscule, mere wrinkles on the immense folds of the Alps that thrust from the planet's surface.
Like lame ants fighting against a severely miscalculated gradient in conditions not fit for an outing, our group of three made its way at somewhat of a trampled snail's pace towards this sublime view. A concoction of excuse making, changes of outfit and unnecessary bike fettling had receded our progress from its set path and rendered us more-or-less motionless.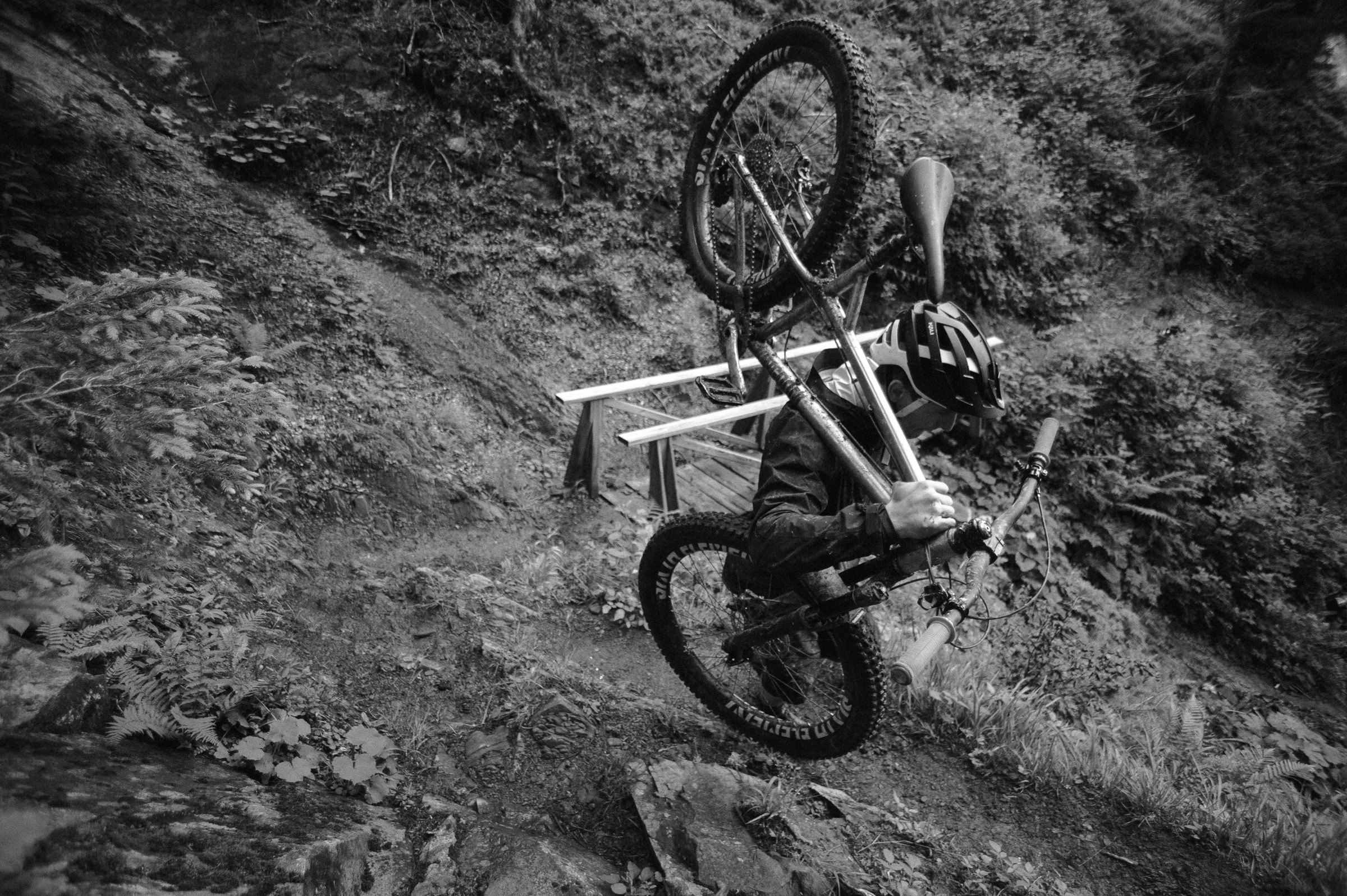 HIGH BUT NOT DRY
_
But we all know that the tortoise will eventually win its race, and with that we crested into the currently abandoned hamlet, our heads finally in the clouds. Literally – the weather moved in and storm clouds descended, enveloping us in a whirling whiteout of slight cold and minor dampness, spirits notably more sopping than our surrounds. This was due to the lack of a promised coffee stop – no cafés here I'm afraid my city dwelling, cappuccino swigging friends – and Chris's weakened efforts as he discovered a large rock in his backpack (he'll get me back one day).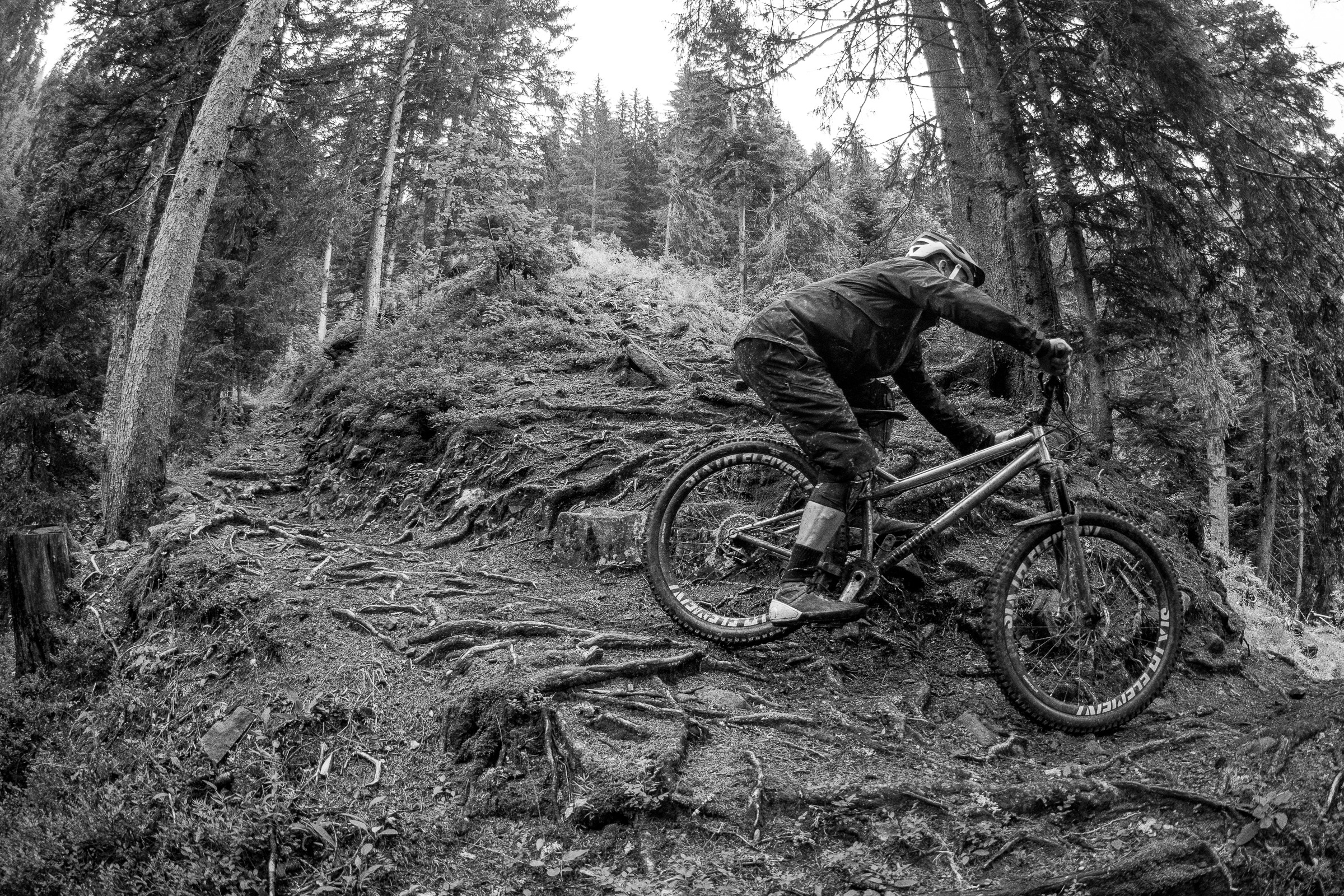 For all our exertions, we were to be awarded a treacherous descent that I had once previously recced on foot in drier days gone by. This forest dreamland of loam and floaty undulations had now become a stinking pit of boggy doom, and we crashed our way through half of our gained elevation while coming under a hail of fire from sniper roots and booby-trap wooden bridges, eventually rolling somewhat shell-shocked half an hour later onto the plains that marked our halfway point.
We were now making our way across the Plateau des Glières, a bowl of natural sanctuary and the site of much suffering during wars gone by. For all the toils and sacrifices of resistance fighters lost on these plains in WWII, our modern prayers were answered some 70 years later in the form of a good coffee and platter of mountain cheeses. Travis got stuck in with the Tomme de Savoie – but the worst was yet to come.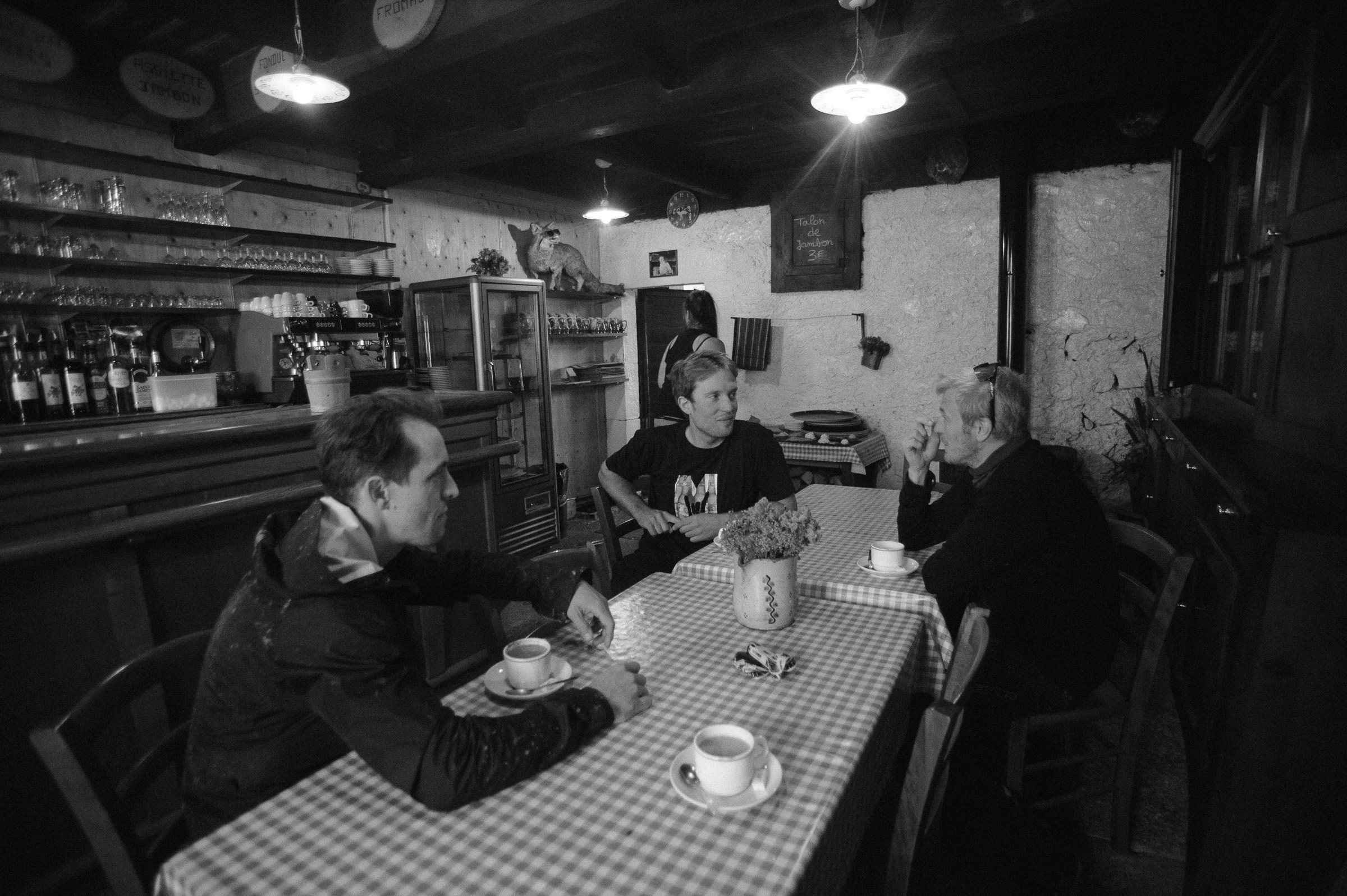 We burned our way through the remaining vertical descent on a high-speed cliff-hanger that once served a thriving summer community. Just an hour or so later we were home before dark and celebrated this major feat with a Ricard – a strong aniseed drink favoured by the Entremont locals – and a beer chaser.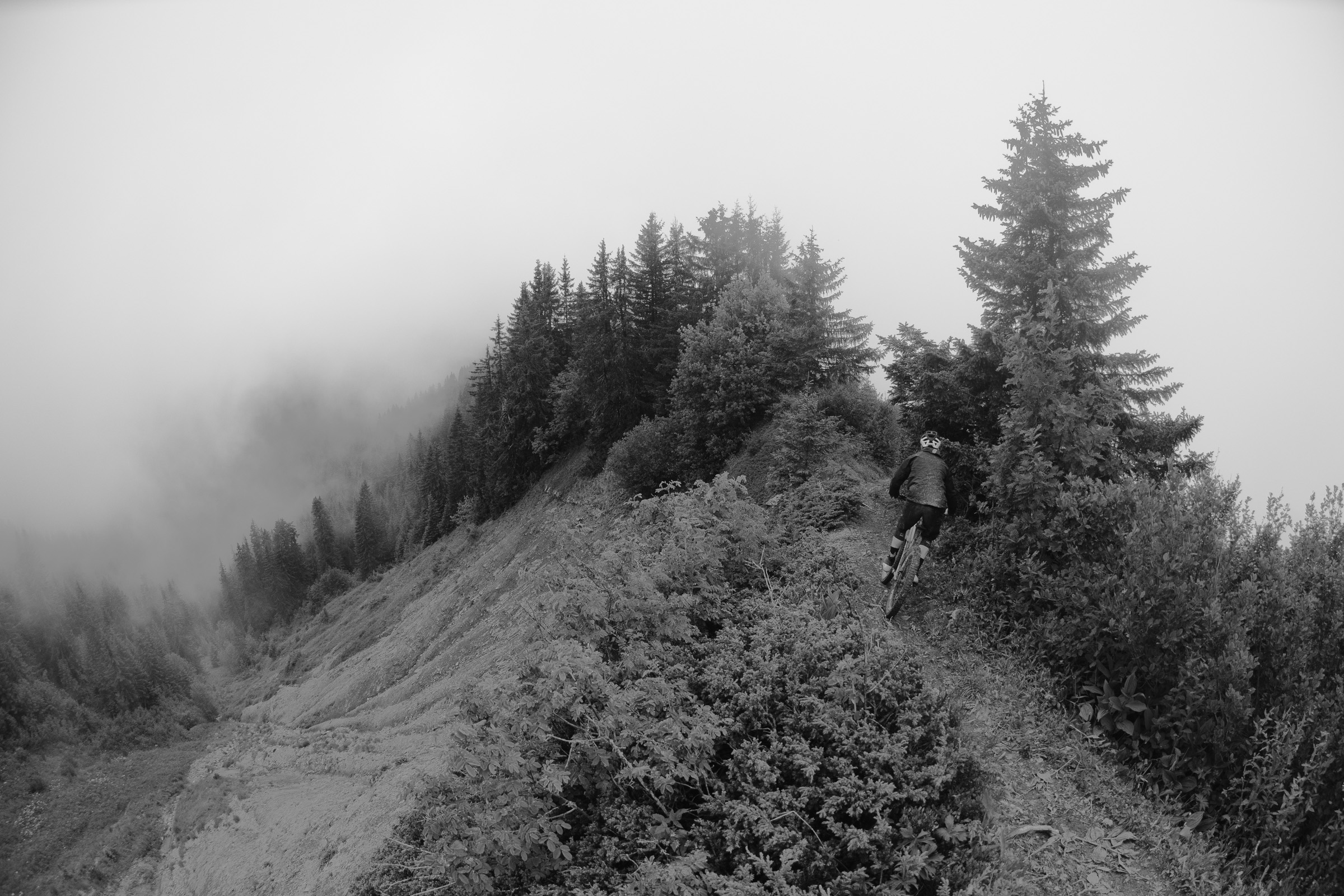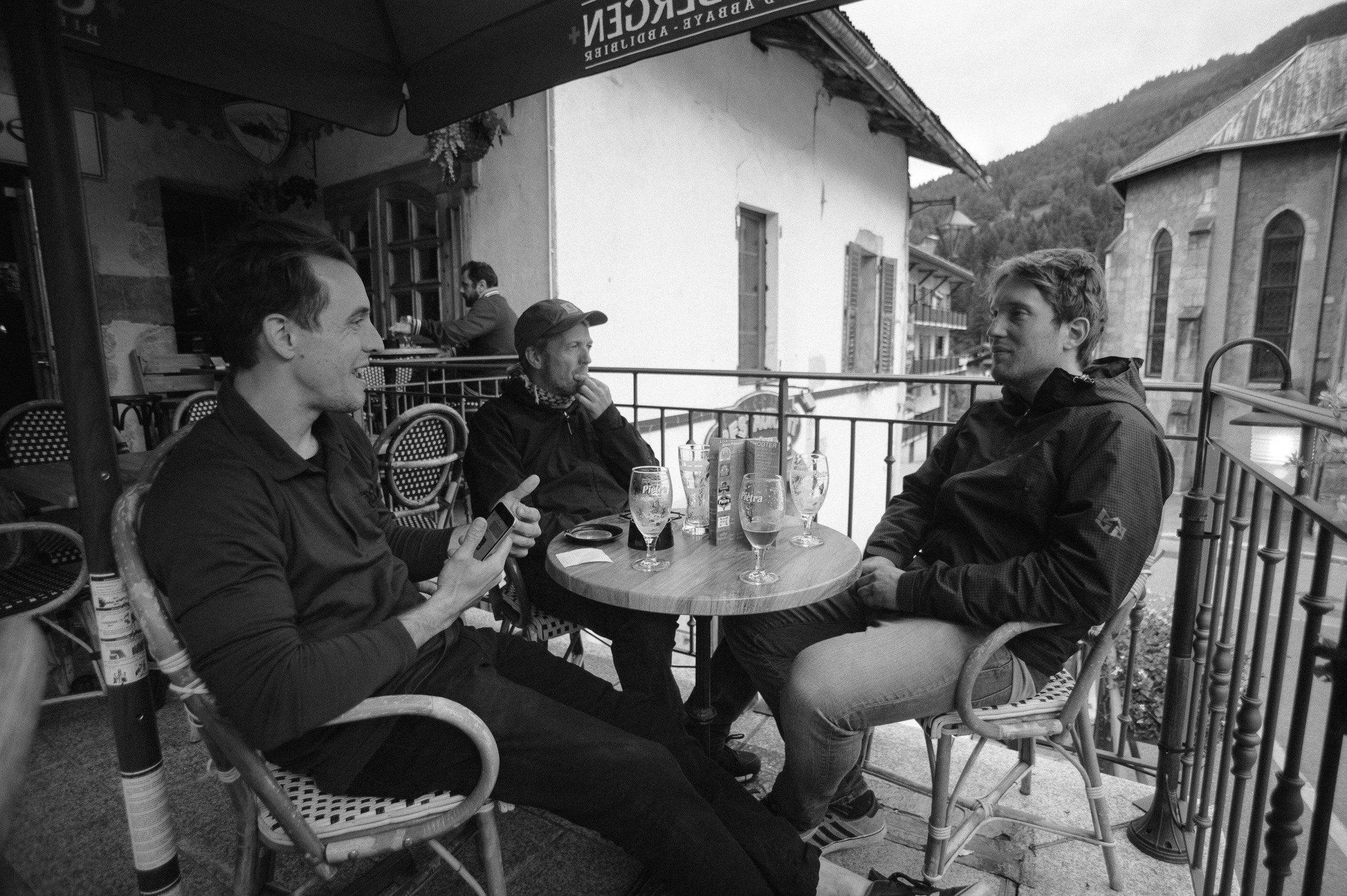 WHEN THREE BECAME FOUR
_
Day three and the only living man known to make slower progress than our trio finally caught up. Photographer extraordinaire Ben Winder has a keen eye for a motor on its last legs, and his latest purchase had unwillingly delivered him to the French Alps at record-breaking slow pace, just in time for our last foray into the Aravis proper.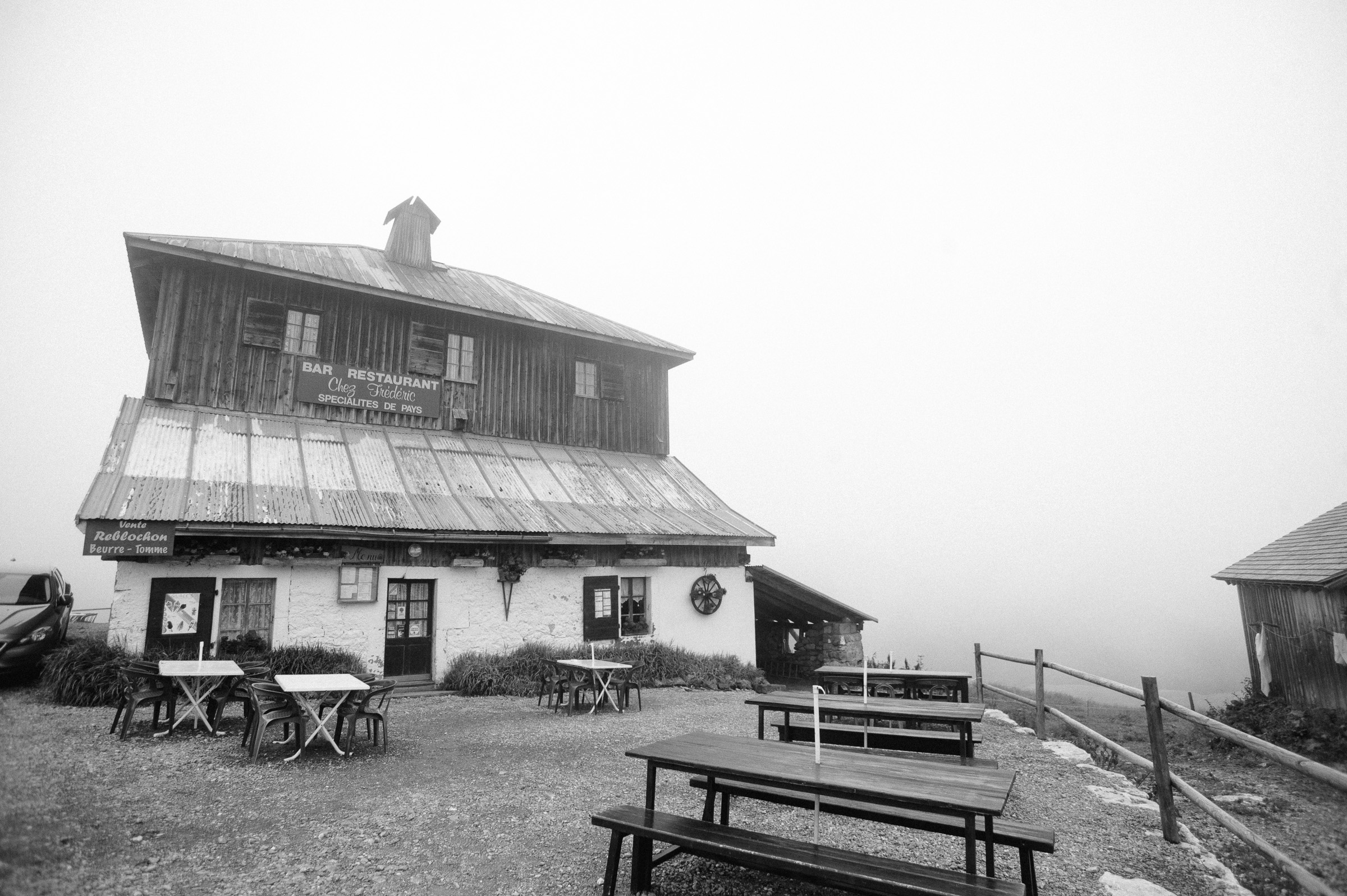 Venturing once again to the Bouchet valley, this time we were going a little deeper and to the Col des Annes; a traditional farming community that is now supported by summer tourism and an infringing ski domain. We made our way to a small settlement at 1700 metres, and just several coffees later were hiking our way towards a mighty summit in the mists above.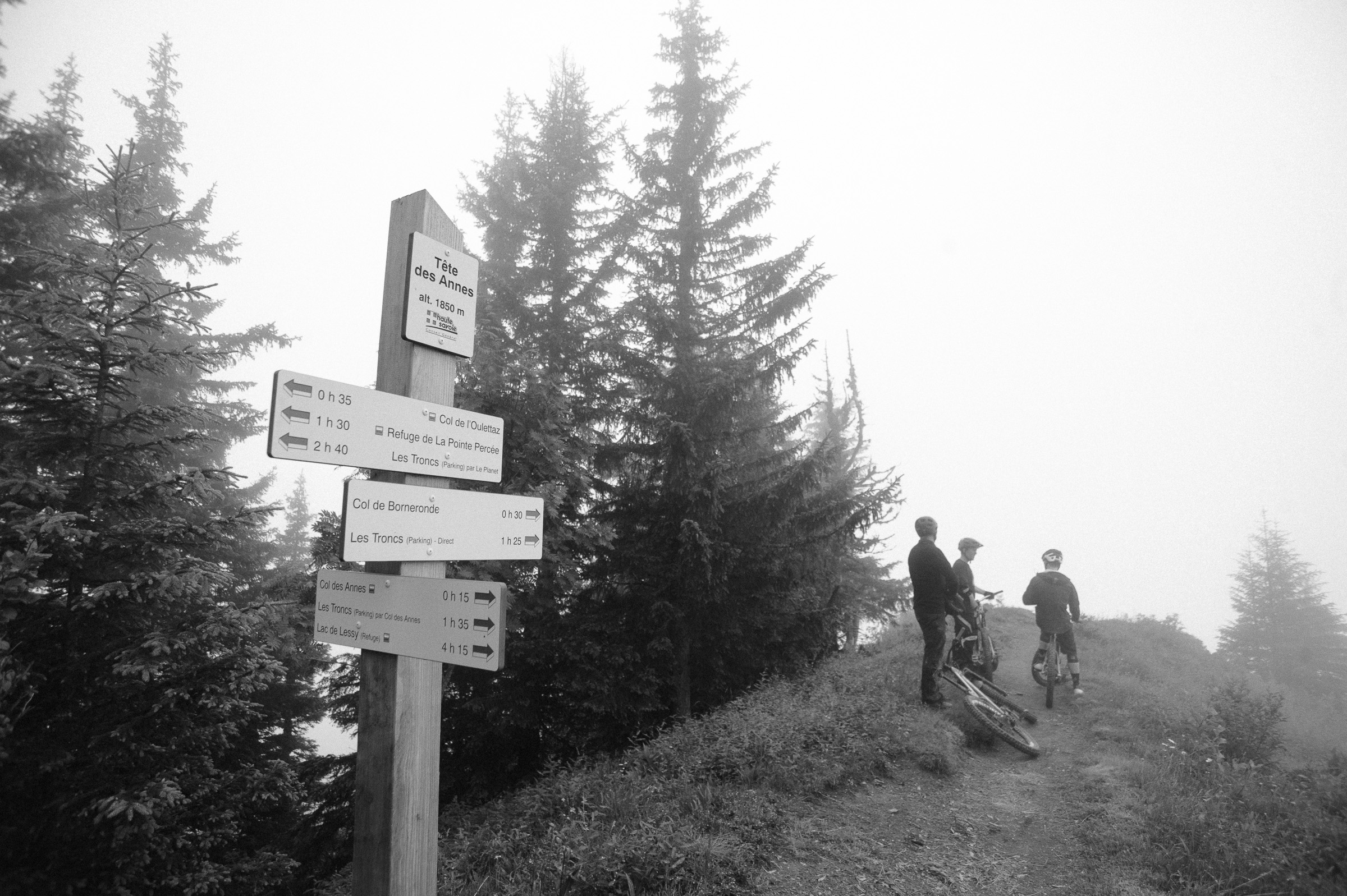 From this vantage point the highest point of the Aravis Massif would normally be towering above us to our left – the Pointe Percée at 2753 metres. But alas, this was the final ride and it wouldn't be a mountain bike holiday with Chris without dark grey skies of impending doom. We set off into oblivion.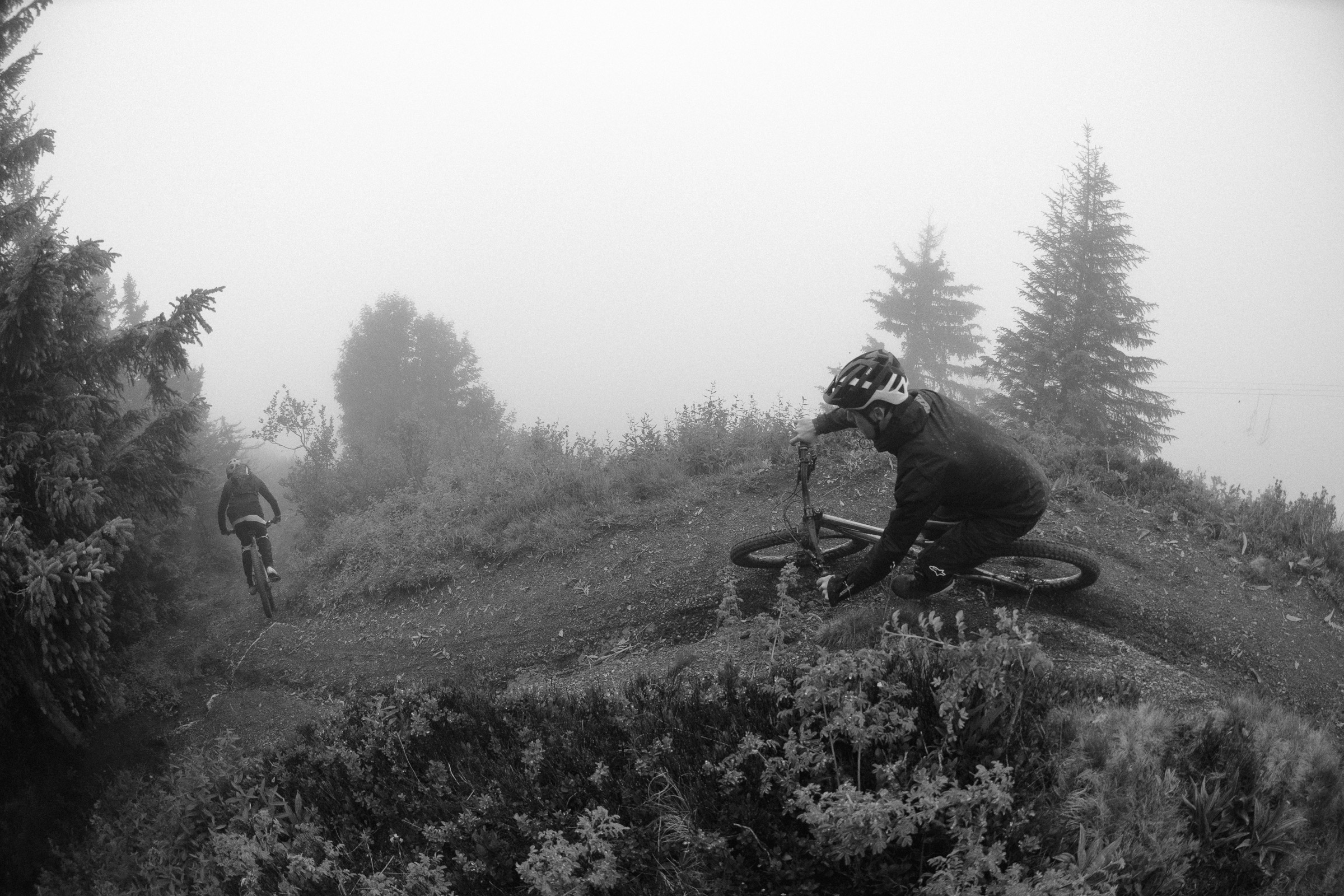 On the gas, we rocketed down the trail's first third of exposed ridgeline, through its mid-section of never-ending roots and were soon into its lower portion. The ensuing trail curvaceously hugged the mountainside as it flowed like water through luscious gulches and then plunged into the ravine by way of a series of perfect hairpin turns. These were of just the right radius that wheels could keep turning, our tyres feasting on the fresh earth beneath a top layer of sopping mud.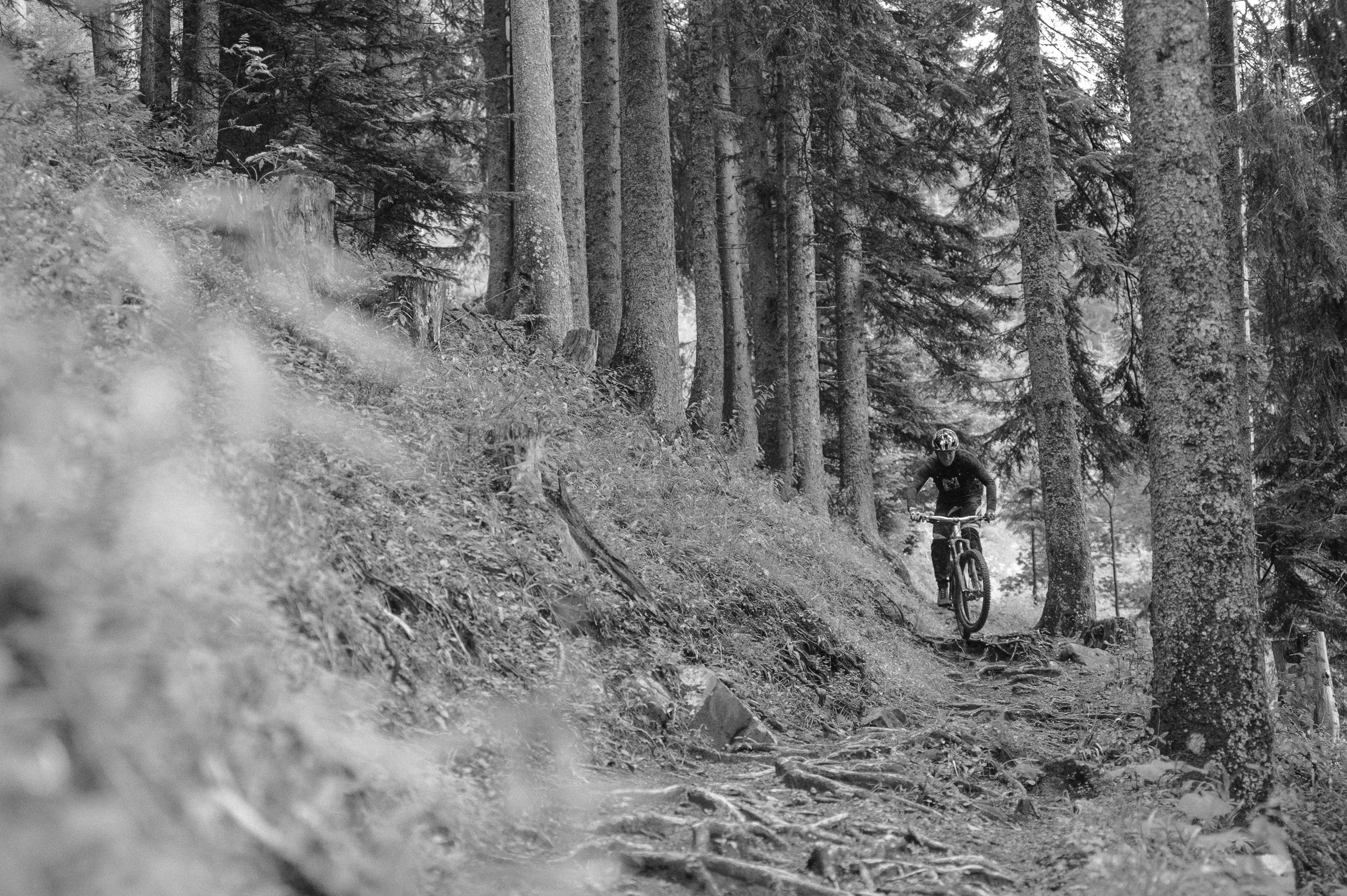 ENDING
_
In a salute to those who once used the trails of our weekend's exploration, we'd toiled and grafted in order to earn our turns and my, was it worth the effort. Yes, we could have used the ski lifts of Grand Bornand and La Clusaz to burn through thousands of metres of descending over these few days, but that would be missing the point.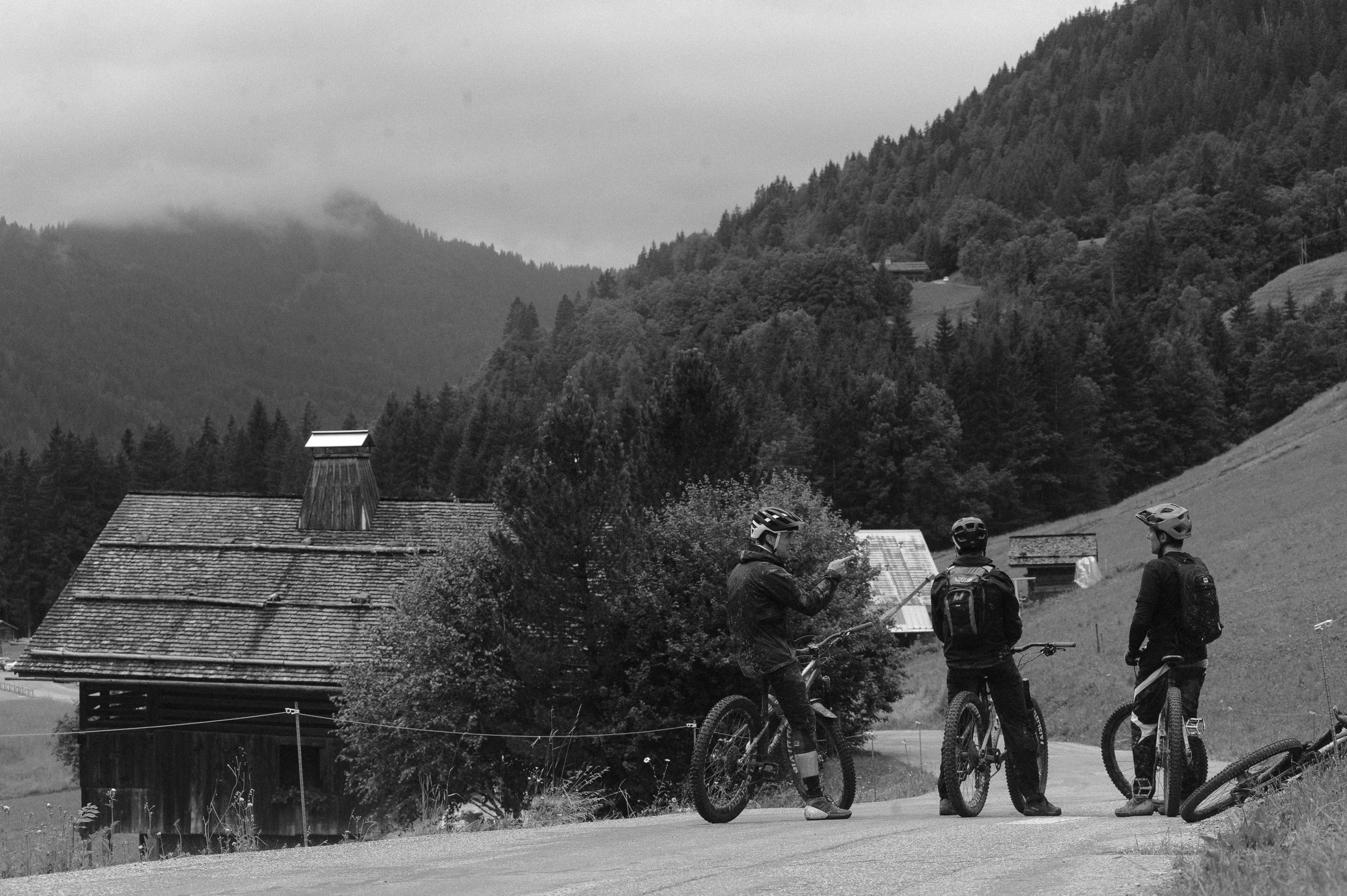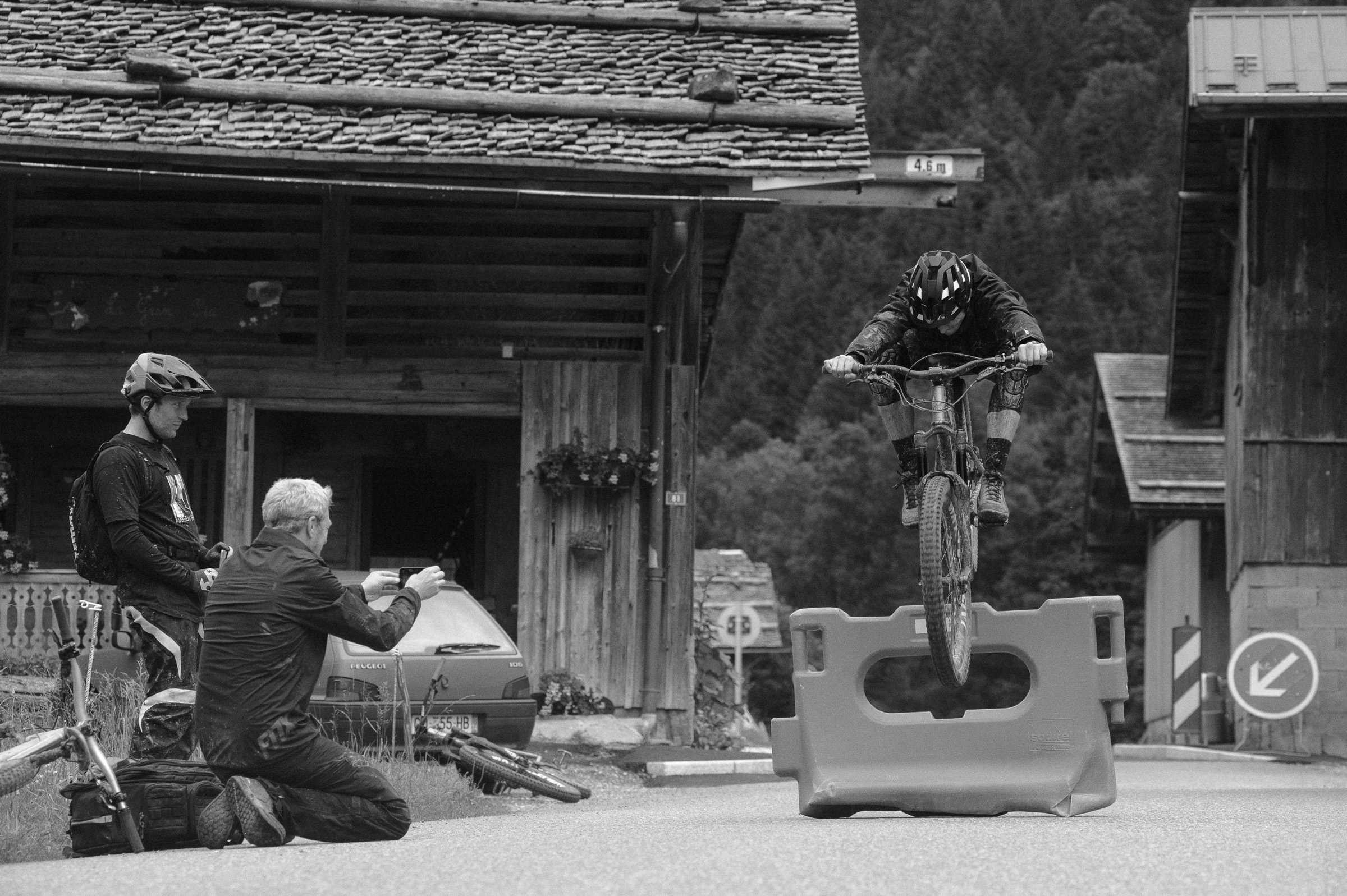 Just as there was once achievement in simply making it to school or work every day in these regions, we will remember the three long days spent hiking and pedalling to distant peaks, and the multitude of unforgettable singletrack twists and turns ridden. Oh, and it's unlikely Travis will ever forget the fondue he waded into on the final eve either; a schoolboy error by a cheese amateur.